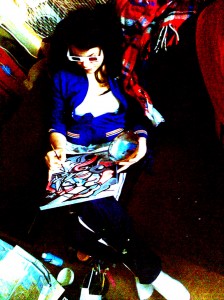 Amik Japansrood [1987] is a fulltime 'autodidact' artist from the Netherlands 🇳🇱 .
As an artist, Amik has worked extremely hard to get to where she is today.
She has had to work her way up from very humble beginnings to owning her own studio located in the lively, creative and artistic quarters of The Hague.
She now lives off the selling of her artwork and has being doing so for over ten years.
Amik paints surrealistic portraits and markets them through various traditional and alternative outlets across the Netherlands.
Her studio candidly named 'Amik' is located in Papestraat, Den Haag, where you can buy her artwork.
She is in the process of publishing a book 📚.
Curriculum Vitae
2017
-EXPO Amik Art atelier/gallery, papestraat 24 mei/dec.
-EXPO INSIDE expo den haag street art 1 sept.
-kunsttechnieken Lucas academie opleiding den haag aug/okt
2016
-EXPO woerden
-EXPO Paint & beer ADM
-DECO Magneet festival Amsterdam
-BEURS Kings of Collar s'herthogenbosh
-EXPO 2days ART Illigal
-DECO Timboektoe Ijmuiden
-DECO Hostelle hotel amsterdam
-DECO gekke geit hostel Den haag
-DECO 18 jaar ADM FESTIVAL
-DECO ship of fools muurschildering theaterschip
2015
-DECO byond festival Haarlemmermeer
-EXPO kruithuis s'herthogenbosh
-EXPO koffiehuis voltaire s'herthogenbosh
-EXPO cafe lange heer Haarlem
-DECO hostelle hotel amsterdam
2014
-EXPO berlijn tacheles school of art
-EXPO berlijn Urban spree
-EXPO hierzo/knoflook s'herthogenbosh
-EXPO can gallery Eindhoven
-EXPO Best kept secret 10 paintings
-EXPO Vandal art eindhoven
-DECO Solar festivaL Roermond
-DECO Gratis sletfest Bodegraven
-DECO telepord hotel amsterdam
2013
-DESIGN Lonc. Designe. Beschildering design stoel Den haag
-DECO harley davidson clubhuis muurschildering Den haag
-EXPO cafe de koos den haag
-EXPO restaurant denneweg Den Haag
-EXPO mien. Den haag
2012
-DECO. Paradiso Amsterdam
-DECO Salvations festival
-DECO Ruigoord muurschildering amsterdam
-EXPO Museum of the bohemians universele
-EXPO cafe cremers den haag
-EERSTE KAMER DER STATE GENERAAL muurschildering Den haag
-EXPO cultureel centrum Vlissingen
-EXPO cafe cremers Den haag
-VEILING kunstvlieg veiling Den haag
-DECO de wasserette boekhorststraat Den haag
-DECO extrema outdoor festival Oslo
2011
-deelname aan den haag schilderkunst AWARD
-BOUWAmsterdam bumperstage westergafabriek
-EXPO Alibaba Galery/atelier den haag
-DECO Langweiligkeit den haag
-EXPO STAND UP gallery den haag
-EXPO ZITTY ZOO Den Haag
-EXPO Huijgerspark kraakgalery
-Bier & Brood hotel kwamza containerschip DESHIT
-PARADE willem holl tentenbouw
-GRAFITIE parkpop
2010
-EXPO grafitie westergasfabriek amsterdam
-EXPO routh du nord ROTTERDAM
-EXPO urban culture rotterdam
2009
-DECO Rotterdam bootleg cafe muurschildering
-BOUW/DECO mysterieland Bumperstage
-BOUW parade
-BOUW Werktheater
-DECO lowlands
-PARADE willem holl tentenbouw
-DECO shutp up & dance Tjechiee
2008
-BOUW westergasfabriek schaatsbaan tinus bumperstage
-EXPO Centrem voor beeldende kunst rotterdam muzeumnacht
-EXPO Rotterdam street art expo
-DECO Canvas restaurant muurschildering
-DECO woodstock bloemendaal strandparadijs
-sita. Vuilnis vrouw
-BOUW PARADE tenten
-DECO Solar festival
2007
-EXPO Sandpoord zuid expo/atelier GRAFITIE LIVE
-POST Tnt post Haarlem
-DECO Solar festival Roermond lifepainten
-DECO Magneet festival Amsterdam lifepainten
-DECO bevreidingsfest. Wageninge
-BOUW parade
-BOUW Robodoc festival tenten
2006
-BUMPERSTAGE Tinus tentebouw
-DECO Solar festival Roermond
-DECO Magneet festival Amsterdam
-BOUW Willem holl Werktheater Utrecht
-BOUW Oerol festival tenten
-BOUW parade festival tenten
-DECO de kapperszaak Amsterdam
2005
-DECO Teknival
-DECO Solar festival Roermond
-EXPO pa's meubelshow Haarlem
-DECO bevrijdingsfest. lifepaint
-Grafisch lyceum Utrecht, vroegtijdig beëindigt
2000/2004
Groenschool agrarisch onderwijs AOC